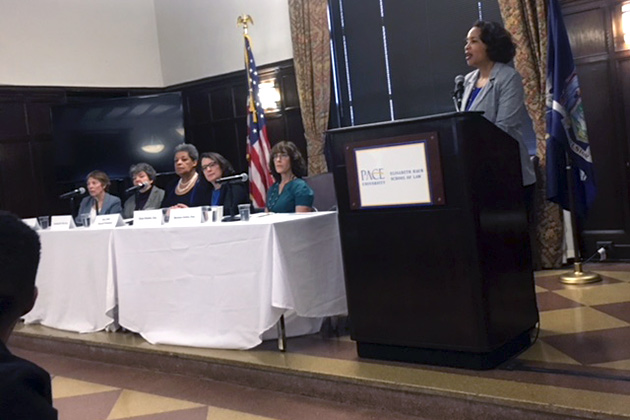 On April 27, 2018, the Westchester County Human Rights Commission celebrated the 50th Anniversary of the Fair Housing Act. The breakfast was held in the Tudor Room at Pace Law School, White Plains, NY. Ken Jenkins, Deputy County Attorney brought welcoming remarks from County Executive George Latimer to a "standing room only" crowd".
The Fair Housing Act was introduced to Congress in 1966. However, some Americans felt that the Civil Rights Act of 1964 and the Voting Rights Act of 1965 provided sufficient legal protection in Employment, Education, and Voting which led them to conclude that the Fair Housing Act was superfluous legislation. But for the protests that ensued in response to the assassination of Dr. Martin Luther King, Jr. on April 4, 1968, the Fair Housing Act may have never been signed by President Lyndon B. Johnson on April 11, 1968. Diane Glauber, Esq., Co-Director, Fair Housing & Community Development, Lawyers' Committee for Civil Rights Under the Law presented the history of the Fair Housing Act and shared that her agency is presently suing HUD for failing its mandate to "Affirmatively further fair housing", as mandated by the act.
In 2008, during my service as then Deputy Director for the Westchester County Human Rights Commission under the leadership of then Executive Director Delores Scott-Brathwaite, Esq. the Commission worked diligently to draft the current Westchester County Human Rights Commission Fair Housing Law and form a partnership with the U.S. Department of Housing and Urban Development, the agency presently charged with enforcing the Fair Housing Act. Today County Executive Latimer's commitment to eradicating housing discrimination in Westchester County is stronger than ever as evidenced by his newly appointed Human Rights Commission Board chaired by Rev. Doris K. Dalton and Fair Housing Board chaired by John Baker.
This year housing advocates throughout Westchester County mourned the loss of the legendary Honorable Lois T. Bronz, the first woman and African-American to serve as chair of the Westchester County Board of Legislators. She was the epitome of graceful diplomacy with a relentless New Orleans charm that would disarm even her most ardent adversaries. She and her then Westchester Board of Legislator colleagues, Andrea Stewart-Cousins and George Latimer led the effort to create the Westchester County Human Rights Commission. Due to her fierce commitment to housing many came to understand that "Fair Housing" was her middle name. We are grateful that the Bronz family graciously permitted the Westchester County Human Rights Commission to create an award to honor her commitment to Fair Housing.
It was particularly significant that Francine Short, daughter and Gyasi grandson to Hon. Bronz were available to present the inaugural Hon Lois T. Bronz Fair Housing Champion Award with Hon. Alfreda Williams, BOL Vice-Chair and Hon Eddie Mae Barnes, Human Rights Commission Board Member to the Honorable Ruth Hassell-Thompson. There was an unmistakable feeling in the room that Fair Housing advocacy, was, and now continues to be a primary concern in Westchester County.
The Honorable Ruth Hassell-Thompson, Special Advisor for Policy and Community Affairs, New York State Homes and Community Renewal also delivered the keynote address. Anyone who knows Hassell-Thompson knows that she is never one to mince words. She did not disappoint on this occasion and for that we are grateful. She made it abundantly clear that the Fair Housing Act was created to counter overt racism that resulted in written banking and realtor policies designed to prevent African-American's from moving in to white neighborhoods. The Human Rights Commission is grateful for the candor with which Hassell-Thompson delivered her keynote.
Last but not least, an informative panel discussion was held. Panelists included: Daine Glauber, Esq., Hon Ruth Hassell-Thompson, Rose Noonan, Executive Director, Housing Action Council, Gretchen M. Flint, Esq. Professor, Pace Law School's John Jay Legal Clinic and Marlene Zarfes, Esq. Deputy Director, Westchester Residential Opportunities. The topics included an assessment of the Fair Housing Acts success or failure, its biggest wins and losses, the biggest battles going forward, and the future of the Fair Housing Act. The discussion was followed by a vibrant question and answer session. Clearly Fair Housing is a "Hot Topic" in Westchester County and the discussion must be continued.